Library history
A few months ago, the Library History Buff Blog did a piece on early children's rooms in public libraries. While the piece was short, I thought it was especially interesting to see the motivations behind offering library services and facilities for young people:
Although various libraries including the Boston Public Library lay claim to having the first public library children's room, the Brookline Public Library in Massachusetts seems to have the strongest claim. Their children's room was established in June of 1890 primarily to get noisy children out of the adult reading room. It was initially supervised by the library's janitor.
John Cotton Dana of the Denver Public Library–the first to offer dedicated children's services in 1894–did say, "If public libraries are of value, this form of a children's department must be, if not the ideal thing, certainly an ideal thing." But in 1896, Mary Wright Plummer found only 15 public libraries nationwide that provided services from a children's room.
We've certainly come a long way in providing library services to young people since then, but how many libraries don't have a dedicated teen space or even a dedicated YA librarian? (This seems like a good point to plug YALSA's Teen Services Evaluation Tool, a rubric based on YALSA's Core Competencies that you can use to assess your library's success in having the resources and desire to provide great service to teens.) There's always progress to be made!
Sarah of Glass Cases recently wrote an essay called "YA: Then vs. Now" with an interesting mix of history of YA lit as well as personal reflections on growing up with the YA lit of the '90s and musings on some historically significant titles. In the essay, she's trying to pinpoint when YA lit turned the corner from "writing about teens" to "writing for teens." Especially since I'm about the same age, it was a pretty interesting read.
And man, if you want some vintage YA lit, check out the Mod-Mod Read-In Paperback Book List featured on Sara Ryan's blog. It's pretty groovy (click through for more scans and some analysis of the chosen titles):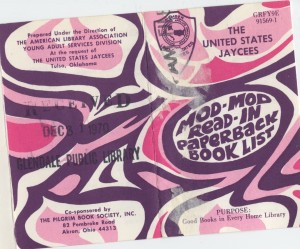 You know what we need? More recognition of awesome women who rock out in their fields. While librarianship has historically been a women's profession, anything to do with computers or programming has generally been branded as being for men (although one of the first computer programmers was a women!). But what about the people who exist at the intersection of libraries and computers? The Geek Feminism Blog recently featured Henriette Avram, who was a programmer who worked for the Library of Congress and who is responsible for the creation of MARC in the 1960s. Awesome.
Women ruining everything (again)
Of course, not everyone wants to recognize women's accomplishments. Some would rather distance themselves from women in the workplace because apparently women defile everything they touch and even just being associated with women or what they do will ruin you and your career. At least, that seems to be the gist of Penelope Trunk's blog post "What To Get Ahead? Stay Away From Women." (It is possible that she doesn't mean what she says, that she is writing these things ironically or sarcastically or in some other way where I can believe she's not for real, but I don't think that's the case.)
Trunk's starts with the idea of a "competition gap" wherein women self-select themselves into lower-paying, less prestigious fields, and that even within their chosen field, they go for "support roles" rather than competitive management positions, or–in her case–even if they are in a "man's field," they choose to focus on womanly things, like writing about women and their lives. This is true! We do value competition and men over nurturing and women. (And I've written about this before in the context of libraries.)
But rather than having a problem with privileging things that are labeled male over things that are labeled female, rather than trying to elevate the prestige of "women's work," she wants women to just stop complaining about this gap:
The thing is that Kimberly concludes in her post that women are getting ripped off. It kills me. I don't want to be writing next to women who believe that women are getting a raw deal and then complain about it. I don't buy it.
Women are getting a raw deal if they're constantly being told that choosing things that interest them and that they value, that being a woman are bad things and that if they were just more manly, they'd succeed. So what's Trunk's advice?
Women: It is very bad to write stuff about dinner with family if you are trying to get ahead. Do not do this. People assume that if you have kids you will do less work. This may or may not be true – I mean, doing less work. But what is true is that you should not talk about family at work if you want to be in the all-boys departments.
But here's the thing: I don't want to be in the all-boys departments. I want to do work that is meaningful to me, and I want society to value that work. Every day, I work in a public library with teens–I think the only way it could be more women's work is if I were working with children–and that work has an impact on those teens and on my community. I am proud of what I do. I'd like for other people to value that as much as they value technology, competition, and dudeliness.
Some encouraging successes
Wow, after that downer, let's talk about some good things that have happened recently!
Michelle Luhtala, the librarian at the high school in the town that my library serves, is hands-down totally awesome. She's really plugged into technology and the importance of tech in libraries and schools, she's a webinar facilitator for edWeb.net, she's been named Librarian of the Year by CLA, she was recently elected Director of Region 1 of AASL, she churns out instructional tools like crazy, and she has a great relationship with her students. Last year her library was one of two to be named AASL's National School Library Program of the Year, and earlier this month Nancy Everhart, the president of AASL, made New Canaan High School her Connecticut stop on her nationwide tour.
And now she–and the teens at her library–have another feather to add to their cap: they won the 16-to-18 age category of the ALA's Why I Need My Library contest! Michelle wrote last month on her blog about the creation of the video. Check it out:
More good news: at the beginning of this year, a controversy erupted when the director of the Enfield (CT) Public Library was told the library couldn't show Michael Moore's "Sicko" as part of their ongoing film program. The library was eventually allowed to show the movie, which was a victory in itself, but the director was also recently recognized by the Connecticut Library Association with an Intellectual Freedom Award.
There are lots of successes we have each day that are never officially recognized with awards but are just as meaningful. David Lubar recently wrote a LiveJournal post about an email he received from a parent about how his books had so captured her son's imagination that he had gone from below grade-level reading to above grade-level–and that he'd begun writing his own stories. That's really powerful stuff.
I've recently had a couple of those moments–maybe smaller, but no less encouraging–myself. I'm organizing a Minecraft competition at my library (I'm planning to talk about it in detail once it's happened) and one of my TAB kids is helping spread the word to her friends on Facebook. Her post was attracting a few comments, and then one of her non-library-going friends wrote, "That's actually like way too cool for a library to be doing," and seeing that totally made my day. I am changing non-library users' perceptions of what a library is and does!
And then last week, a former borderline troublemaker came over to me and out of nowhere said that I was doing a good job of standing up for teens and that I was making the library a better place for teens. He couldn't have made me happier if I'd been feeding him lines to parrot back at me! And then he asked if he could join our Teen Advisory Board!
So you know, haters gonna hate–but I'm doing my job and it's having an impact on my community and I feel good about that. And you should feel good about your work, too! What encouragement have you received recently?
2 Comments May 26, 2011