September 10, 2010
This collection of links is going to be a real mix of things, but there's so much interesting stuff I've seen lately!
YA lit and library news and trends
One of the things I'd like to see more of in librarianship in general and youth services especially is more rigor and research. YALSA is launching the Journal of Research on Libraries and Young Adults, an online, open-access, peer-reviewed journal, in November. They've put out a call for papers for the Winter 2011 and Spring 2011 issues.
Through 20 September you can also nominate librarians for the I Love My Librarian Award. The winners get a $5000 cash award, a plaque, and a $500 travel stipend to attend an awards reception in New York hosted by The New York Times, so this is a great opportunity for all of you library users to nominate a librarian who's made a difference in your life or your community.
The Horn Book has available a poster called "A is for XBox: 26 Ways to Prevent Summer Reading." While I think there's some unnecessary hostility toward technology (you can read books and play video games), it's still pretty cute.
Speaking of summer reading, one Bronx teen read 325 books during the New York Public Library's summer reading program. That's astounding, but I think my favorite part of the article was the bit about the boy designated "most improved" who began having to have his parents read to him but finished reading over 60 books on his own. Yeah summer reading!
In sadder/madder news, Sherman Alexie's The Absolutely True Diary of a Part-Time Indian was recently removed from a school library in Missouri. On Wednesday the school board voted unanimously to ban the book from the school curriculum and voted 7-2 to keep it out of the library.
Alexie's book has won a number of awards, but that did not sway the board.

"We can take the book and wrap it in those 20 awards everyone else said it won and it still is wrong," said board member Ken Spurgeon.

Supporters of the book said it was chosen to get high school boys, particularly, interested in reading. Spurgeon said that was a mistake because the book's reading level is low for high school readers.
Over at Closed Stacks, The Librarienne rails against the ALA for continuing to promote the idea that librarianship is a greying profession and that there will soon be a mass exodus of retirees leaving positions for new librarians to fill, citing the unemployment and underemployment she and her fellow graduates are suffering.
But in non-sucky news, Bitch Magazine recently interviewed Lia Friedman, he head of public services at the UCSD Arts Library, the staff librarian for make/shift magazine, and an active member of Radical Reference. Lia talks about the values of librarianship, stereotypes of librarians, and what Radical Reference does.
Earlier this spring I reviewed Joanna Philbin's debut YA novel The Daughters. For readers who want more, Philbin did interviews with School Library Journal and the Poppy website.
I finally finished catching up on all of the Mockingjay-related posts on blogs I follow! I think Leila's overall analysis at Bookshelves of Doom and Jia's take on its portrayal of the horrors of war at Dear Author are spot on.
Way earlier this summer, Shannon Hale asked other YA authors about books with morals and got a lot of interesting responses.
The team at Orbit had their summer intern do "a survey of cover art elements for the top fantasy novels published in the previous year," and a few weeks ago they published their results. The summary in chart form: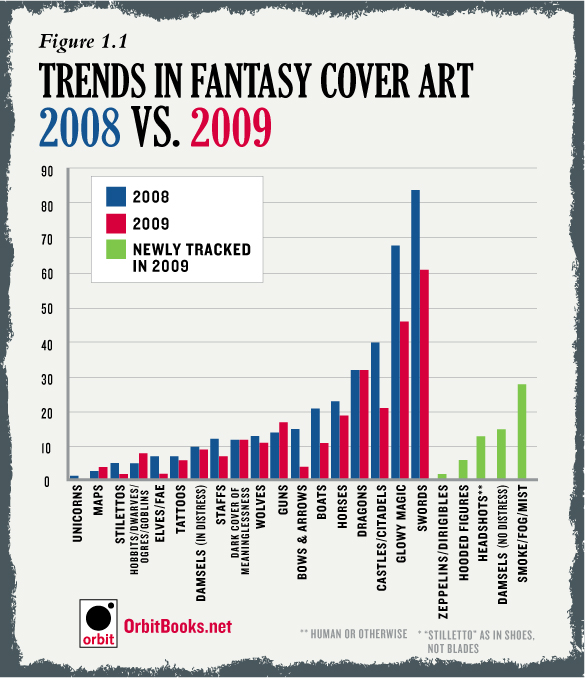 Crafts
ohdeedoh has a tutorial on creating custom hardbacks with cardboard, fabric, a gluestick, and an inkjet printer.
Check out these simple cut-paper bookmarks from We Wilsons and Wild Olive.
And celebrate back to school with Sew, Mama, Sew!'s binder pouch tutorial.
Book art, storage, and design
There's more amazing book art at style/SWOON.
design*sponge's collection of photographs of different book storage techniques is pretty cool.
And João Machado's video "The Effect of a Book, Extending Beyond The Form" examines how we handle books:
And finally…
Via YABOOKNERD, the Masters of Library Science Croquet Tournament:
Filed under: Uncategorized